Having kids and a clean house at the same time can be an arduous task. You might sometimes wonder how do people who have kids manage to have a tidy house. Well, keeping your house clean is hard, but not impossible. There are a number of small changes which really make a difference. Thus, we decided to share some secrets on how to keep your house tidy when there are kids around. These tips will come in handy, especially for busy moms and dads.
Probably the most important thing to mention before we move to the tips is to remind you to revise your expectations. Always set clear yet achievable goals when it comes to having a clean house. The comfort of your family should always come first. After all, your kids won't remember how clean your house was, but they will definitely remember the time you spent together as a family.
Include Your Kids in the Cleaning Process
If you want to have a win-win situation at home, make sure you include your kids in the cleaning process. However, this doesn't mean that they should clean all the time and not enjoy their childhood. Instead, let them be kids in a neat house which they will happily call home. It's best to come up with a good system to organize your kids. We suggest leaving them to play and make a mess, but collect and clean the mess together with you. They might do it happily or may want to run away, but you should be persistent. In that way, you will have less work and over time they'll get used to cleaning after themselves.
Allow Toys Only in a Specific Area of the House
This is probably one of the best tips someone can give to busy parents who want to maintain their house clean. Limiting toys to a specific area of the house is a huge game changer. For instance, place the toys in the living room and always have a storage basket there. Moreover, you can have a limited number of toys in the area, such as the ones your kids play the most with. In that way, the cleaning process will be easier and your house will be almost always clean.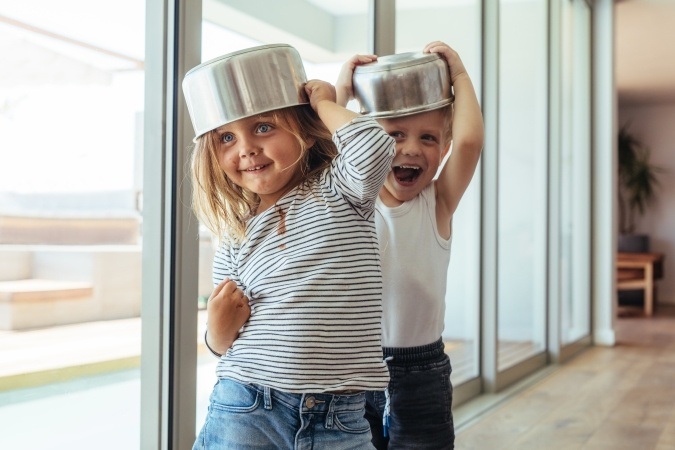 Work Together with Your Spouse
Make your spouse your partner in everything as running a home requires a team effort. Both you and your spouse are busy, no matter who is working or staying at home. Likewise, both of you have weaknesses and strengths. Hence, it's best to make a plan of the tasks and divide the roles. You'll see that over time everything will look easier and more manageable.
Set a Timer for Cleaning
It might sound surprising, but setting a timer in order to stay focused will help you a lot. You will be amazed at how much you can accomplish in just a certain time frame, such as 15 minutes. When your kids grow a bit, make the timer a game and see who can clean the most in that time frame. Strange but it works!
Use 100% Natural and Kid-Safe Cleaners
When cleaning the house, it's crucial to use eco-friendly and kid-safe cleaners. No matter how old your kids are, it's almost impossible to keep them away from the products you're using. So, avoid using chemicals which can be quite dangerous, both to you and your kids. Buy 100 percent natural cleaning products and always use anti-bacterial microfiber cleaning cloths.
Do Most of The Chores When Your Kids Are Sleeping
This is another handy tip as your kids sleeping is the perfect time when you can clean your house without obstacles. Moreover, it's best to clean your house in sections and one part at a time as your kids will be probably awake in no time.
Vacuum and Mop at the Same Time
If you want to have a tidy house, it's essential to learn to multi-task. This especially goes for the vacuuming and mopping. Having kids means that vacuuming the floor won't make a huge difference. Thus, it's best if you do these two at the same time. Fortunately, there are plenty of machines which will help you vacuum and wash your floors at the same time that will definitely come in handy.
Make a Cleaning List
Having a cleaning list or routine for you, your spouse, and kids, is a very important step towards decluttering your home. In fact, you will be much more organized if you know what things are a priority and who does what in your household. Moreover, establishing a certain routine will definitely help. For example, teach your kids to follow a simple routine and work your way towards the bigger task. So, start by suggesting they hand their coats and leave their keys in a special tray or on a hook. By setting a routine, your kids will learn to clean after themselves and thus, you will have less work. The result: a clean house.
Have Large Containers for Toy and Book Pick-up
Having a large container for toy and book pick-up at various places around the house is a must. This means that you'll get a large container for every family member. So, everyone should leave their things in their container. Then, at the end of each they, each should clean their own container and leave only things they'll need for the morning. This isn't only convenient, but also stops the never-ending question of where certain things are.
Place a Laundry Basket in Your Kid's Room
Every kid's room should have a laundry basket which will make it easier for your kids to declutter their room. By placing a laundry basket in your kid's room, your kid will find it easier to throw dirty clothes and it will be better if you only pick the basket than cloth piles around the room. This tip is especially useful if your kid is a teenager, but also works for younger children who should incorporate such routine.
Hire Some Help
Hiring help shouldn't be considered hard and intimidating. We all tend to lead hectic lifestyles that make managing the house an impossible task. So, some help from time to time will definitely be helpful and welcome. Hire a housekeeper so you can spend more of your free time with your kids.
Creating a comfortable and relaxed home, which is clean at the same time can be a challenging task. However, it is definitely achievable if you know certain secrets and tips. Incorporating the above-mentioned tips and tricks will definitely help you be more organized and have a stress-free house. These tips will help you enjoy a clean and cozy home, and we could all use that!